!-(Created 29/08/1999_ 0:39:19 © Copyright 1999 -->
The Homepage of Hasan Zirek
This Page is devoted to the Greatest Kurdish Artist

Email me I Ba Inwani I Dangiyan naye I Zer Be I Kije maro Jiwani I Lada I Niya la mal I Wara Gulim I Pe Bikana I Haynar I Nasihat be I Mangi yek shaw I Ay Pari I Lay Lay I Lawi Watan I Charoka Hawleriye I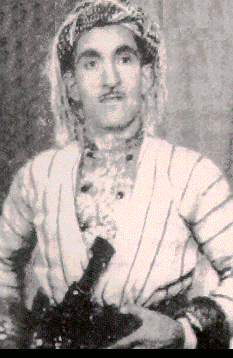 Born in Eastern Kurdistan(IRAN) in 1921 in BOKAN, Village of Hermila.
He showed a talent for singing at an early age. Despite of very much suffering in his life,, his great talent in singing has never been declined. The border set forcibly on Kurds, have never stopped him in moving and venturing in different parts of Kurdistan. He spent much of his life in the east and south of Kurdistan. He recorded more than 1700 folk songs, even though he was illiterate. He has two daughters from his wife Media Zandi who currently live in Teheran-Iran.
He
died of cancer in June 26th 1972 and was buried in his native city Bokan.

Download Free and Listen to Hasan Zirek